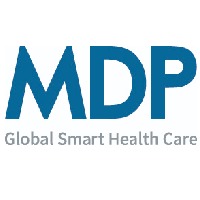 MDP Co., Ltd.
Contact - MDP Co., Ltd.
Rm 1901-1902, 88, Gasan digital 1-ro, Geumcheon-gu
Seoul 08590
South Korea
Send a message - MDP Co., Ltd.
Legal information - MDP Co., Ltd.
| | |
| --- | --- |
| Nature | Head Office |
| Year established | 2011 |
| Activity | |
| Co.Registration No | 128-86-64039 |
| No employees (address) | 6 Employees |
| No employees | 6 Employees |
| Kompass ID? | KR123407 |
| Kompass member for | New |
| Membership | Booster International |
Presentation - MDP Co., Ltd.
body slimming device,beauty & Health care Devices,simple for body care,wearable health care device,enhance exercise effect,helping customers manage body shape,home use aesthetics device,partial body care,help reduce skin surface,smart and secret for body care

# Company Introduction
MDP Co., Ltd was established in August 2011 and became a manufacturer in 2016 and specialized in medical, health care and aesthetics devices. MDP's major products, LaBD DAVAN(former. Lapex) and DPA(Digital Pulsewave Analyzer)are internationally patented and certified and have acquired a great brand recognition in North America and Europe over the years. In 2018, MDP launched personal Health-care and Beauty product, LaBD LU. LU is certified EMC of USA (FCC), Japan(PSE) and other counties, so we plan to give our overseas customers easier beauty & health care. For more information, please visit our website(www.bravomdpglobal.com).

# Strength
LaBD LU using LD(Laser Diode), not LED, which is applied with Low-Level Laser Technology(LLLT), emits laser reliably and accurately to reach the subcutaneous layer. Unlike similar products, there is no physical stimulation or other pain at all, and it is easy to use because it excludes complex and difficult functions. Also, since devices are small and light, the key point is to be able to manage your body shape anytime, anywhere.
The advantage of our product is that it's simple and easy to use, a user-friendly product and safe laser management is possible without any physical stimuli on the human body.

# Main Products
- Home-use Aesthetics Device for body shape l Body slimming device
- Others (Medical Device for non-invasive pain relief, Digital Pulsewave Analyzer Device, Body booster cream/ cleanser)

# Catalogue
Product: http://goo.gl/QKc6Aa
Company: http://goo.gl/RFC3G1

# Video URL
http://www.youtube.com/watch?v-eVBXoK6QMl0
http://youtu.be/q1xcFt3CT3k
Company catalogues - MDP Co., Ltd.
LaBD LU_MDP (English)

4 pages

LaBD DAVAN_MDP (English)

4 pages
MDP Company Catalogue (English)

8 pages
General Information - MDP Co., Ltd.
Certifications
| | |
| --- | --- |
| Type: | World widely EMC Certified (Korea KC, EU CE, US FCC, Japan PSE, |
Export area
North America, Asia-Pacific
United States, Canada, Japan, Taiwan
Brands - MDP Co., Ltd.

Executives - MDP Co., Ltd.
Mr. Woo Kyeong Seo
Chairman
Key figures - MDP Co., Ltd.
Turnover
Activities - MDP Co., Ltd.
Producer
Distributor
Service provider
Main activities within the Kompass classification
Secondary activities within the Kompass classification